Using predictive algorithms to conserve a down hole Progressive Cavity Pump
An incident recently occurred at a Client site.
Noralta's proprietary Algorithm intervened to both preserve the down-hole pump and ensure continued production.
The chronology of events:
At 9:00 pm on Saturday, March 18, 2017 the casing pressure begins to increase;
At 10:00 – 11:00 pm the pump efficiency begins to fall off due to poor inflow into the wellbore;
At 1:00 am on Sunday, March 19, 2017 the controller algorithm automatically drops the RPM to the minimum set point to prevent damage to the pump;
The wellhead drive sits on minimum RPM as programmed with input from the Production Co. team;
Damage to the pump is minimized – pump is not working 'dry';
At 1:15pm, a prolonged low flow alarm rings into the Noralta control room, our operators contact Production Co. (Client) field staff to make them aware;
Client Production Co. is dispatches Field Technician to relieve Casing pressure.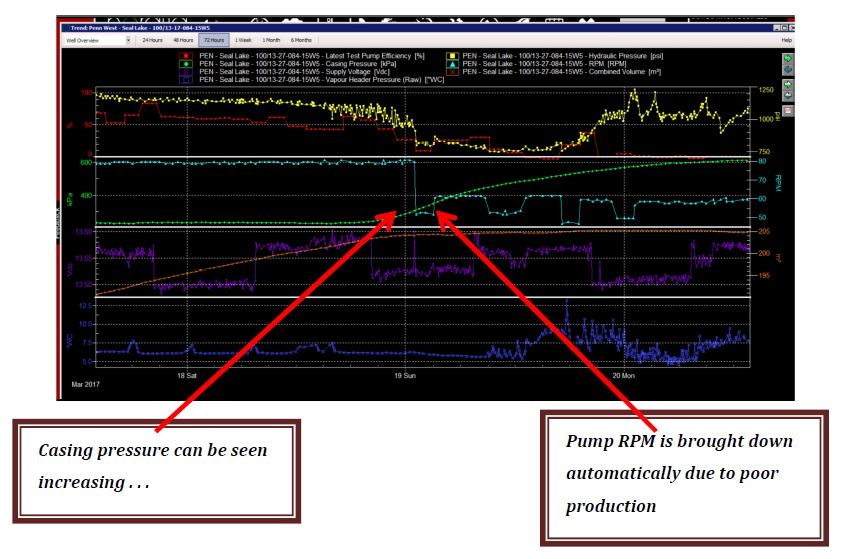 Screen print-outs from Noralta's nTerface system.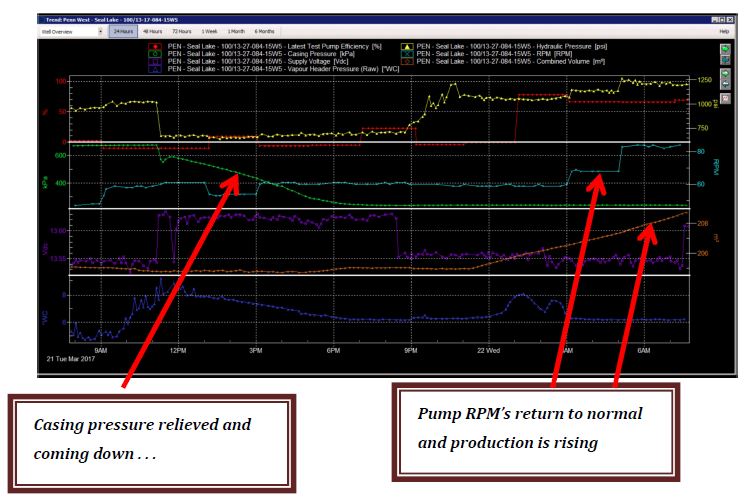 Screen print-outs from Noralta's nTerface system.
The next morning (March 21, 2017) a field technician visits the site to lower the casing pressure:
By 7:00 pm the Casing pressure was back to normal;
By midnight; 12:00 am, some oil inflow is returning;
By 1:30 am, the pump efficiency is back above the minimum efficiency set point (40%);
By 3:00 am, (March 22, 2017) the controller algorithm has automatically sped the pump back to max RPM to achieve maximum production.
Had this situation been left unaddressed, the pump would have heated the elastomer in the stator due to
lack of oil flow and potentially burnt out.
Noralta's monitoring software notified the nControl 24/7 Control Centre which in turn called the Production Co (Client) to make them aware the situation.
The Noralta n-Enterprise software automatically reduced the pump RPM speed conserving the equipment and automatically increased the pump RPMs later.
These autonomous actions saved the pump from damage and significantly reduced the time of low production.