Enterprise Resource Monitoring &
Management Platform
nTerface is Noralta's Premier digital dashboard through which all field and facility data is accessed, analyzed and controlled. It is an industry-leading digital Supervisory Control and Data Acquisition (SCADA) platform that give you the power to control your sites and facilities remotely, and access the data you need to make smarter production decisions.
nTerface supports "Management by Exception".
You can access critical information on any device, anywhere you have an internet connection. Whether in the office or in the field, nTerface puts all upstream data at your fingertips.
The nTerface platform allows you to quickly analyze site data and optimize production remotely, all while minimizing expenses by giving you the robust visibility to respond quickly to assets that are down.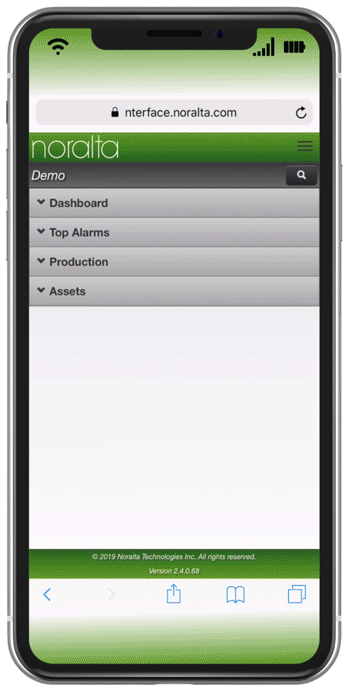 nTerface is about more than production numbers
it provides access with custom SCADA screens just like your old SCADA system, only accessible from head office, field or home. These screens can reflect plant, compressor and other custom sites. At wells, you can speed up your well, tweak your pump-off setpoint, or adjust your plunger lift times.
Customized for different users, nTerface can be designed to explore data in a meaningful way – especially for you! Operators can check production from their phone before they drive to the next site, executives can check daily production and regulatory compliance from dashboards. Advanced users can adjust settings to optimize production remotely based on powerful trending.
Completely flexible, nTerface supports a variety of field devices, so you're not locked into one vendor, and you can acquire new fields without worrying about the onsite infrastructure. Flexible and accessible.
nSight is available in three customizable tiers depending on your requirements:
Hosted Automation
No computers to back up, no servers to fail, no personnel issues​

Pay only for the platform features and services you need​

Monitor and control field assets from anywhere via desktop, mobile or tablet​

24/7 support, whether you manage one site or one thousand​
Dashboard
Fully customized to give you the data you need most at a glance​

Customizable for different users​

See aggregate portfolio or granular site data​

Quickly access the complete n- line of Noralta products​
Custom Automation
Reduce errors and save time entering production numbers​

Automatically load and validate gas analysis​

AER Directive 17 compliance​
Not all solutions are created equal, but with the power of n, Noralta can custom-tailor a range of products and services to give you the information and tools you need to get the most out of your production and drastically reduce administration and management costs.
Discover the Range of Noralta's n- line of Digital Solutions
Robust and powerful enterprise automation and management software for oil well dynamic operations maximizes remote production control and minimizes human intervention.
nGas is Noralta's SaaS solution for gas well monitoring. Automated monitoring installations often generate "stranded data" – information that's not accessible to operators and of little value.
Your pipeline assets are in sparse locations, in most cases far from the nearest road and field office. nLine gives you real-time, on demand digital access to essential pipeline data to facilitate faster responses.
Optimize your burners to lower your maintenance costs, reduce downtime and lower your fuel consumption. Enhance legacy installations and ensure new installations are fully B-149 compliant with certified controllers.
Noralta's nSight gives you "eyes on the ground" with remotely controlled directional video. nSight's cameras have helped them identify thieves, deter theft, and catch fraud by service companies.
Complete enterprise solution for site security and protection, monitor your site 24/7 with camera-equipped motion sensors that triggers recording for law enforcement use.
Noralta's nFrared digital heat imaging solution lets you see what the naked eye can't, at any time and from any device that has an internet connection.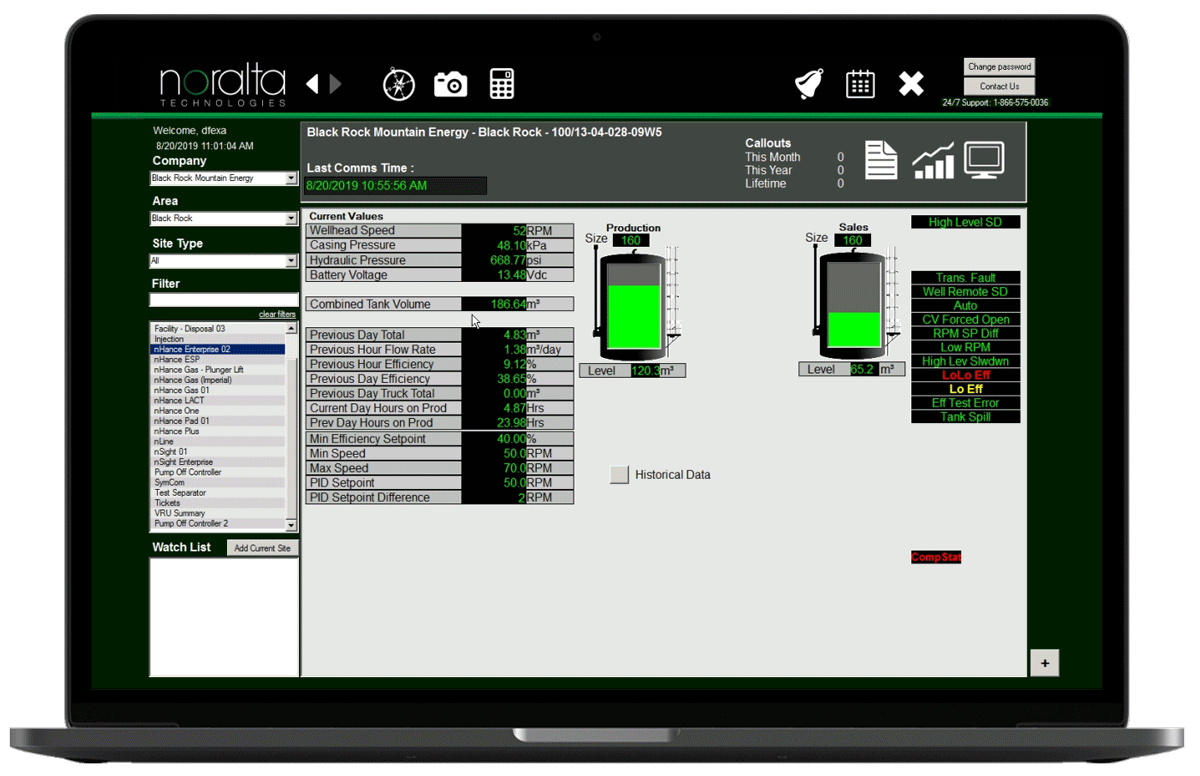 The hub of Noralta's SaaS services, our Control Center actively monitors production sites and facilities 24/7, using the latest monitoring technology integrated with Noralta's suite of enterprise software solutions. Control Center operators and technicians have field experience and extensive training, and thus an intimate knowledge of your operational business requirements. And they are always available to assist you, at any time, just a phone call away.